The Institute for Clinical Research Education

---
The Institute for Clinical Research Education (ICRE) is the home for the University of Pittsburgh's premier clinical and translational research training programs as well as the home for the Research Education and Career Development Core of the Clinical and Translational Science Institute (CTSI).
The ICRE's primary objectives are to develop, nurture, and support a cadre of clinical and translational scientists by building on the University of Pittsburgh's existing clinical research training programs to establish a comprehensive program with activities ranging from early research exposure for high school students to programs for faculty. We offer degrees in clinical and translational science as well as medical education. We also have numerous career development programs for trainees across the pipeline.
News and Information about Programs
---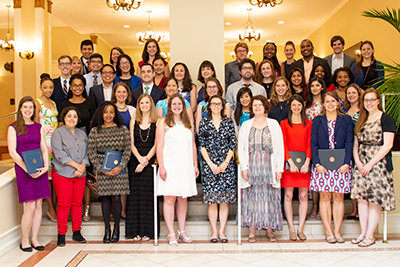 The Institute for Clinical Research Education recognized degree program and training program graduates at the ICRE Commencement Ceremony held on May 22nd. This event honored the 79 graduates who have completed an ICRE program within the last academic year. Congratulations to all graduates and a special note of thanks to the event's keynote speaker Dr. Matthew Rosengart.
---
Faculty News
Kevin Kraemer, MD, MSc, was awarded a PCORI $4.2 million grant to decrease opioid prescribing for acute pain. The grant will use provider-targeted behavioral interventions to prevent unsafe opioid prescribing for acute non-cancer pain in primary care. Dr. Kraemer co-directs our Clinical and Translational Science Fellowship (TL1), leads the Section of Treatment, Research, and Education in Addiction Medicine, and is a Professor of Medicine and Clinical & Translational Science.
Carla Spagnoletti, MD, MS, was given the Mid-Career Education Mentorship Award at the 2018 Society of General Internal Medicine Annual Meeting in April. This award recognizes an outstanding mid-career educator nationally who is actively engaged in education, research and mentorship of junior clinician educators. Dr. Spagnoletti directs our Master's and Certificate Programs in Medical Education, and is a Professor of Medicine.
---
Recent Grant Opportunities
The Vilcek Foundation will award three prizes of $50,000 each to young foreign-born biomedical scientists who demonstrate outstanding early achievement. Eligible work may be in basic, applied, or translational biomedical science.
For more details, please click here. Applications are due by June 11, 2018.
The National Heart, Lung, and Blood Institute (NHLBI) has announced the Physician-Scientist Research Award for Early Stage Investigators, intended to support the independence of physician-scientist faculty committed to academic careers in heart, lung, and blood diseases and sleep disorders research, and related implementation science.
For more details, please click here. Applications are due by June 4, 2018.
This award represents the continuation of a National Cancer Institute program to enhance the diversity of the pool of the cancer research workforce by recruiting and supporting eligible junior investigators and Early Stage Investigators from underrepresented groups. This funding opportunity will also provide a bridge to investigators who have completed their research training and may need extra time to develop a larger research grant application.
For more details, please click here. Applications accepted on an ongoing basis.
NIH Loan Repayment Programs
For more grant opportunities, please see the grant opportunities page.


UPCOMING EVENTS
No events for the next 30 days.
"I'm always using things that I've learned in class one way or another.  Whether I'm reviewing a journal article, teaching at the bedside, or reviewing goals and objectives for our fellowship, being a part of the program has taught me a great deal and has afforded me many opportunities.  It's not uncommon for me to refer back to the material from various classes to help me with a specific issue. "