The Institute for Clinical Research Education

---
The Institute for Clinical Research Education (ICRE) is the home for the University of Pittsburgh's premier clinical and translational research training programs as well as the home for the Research Education and Career Development Core of the Clinical and Translational Science Institute (CTSI).
The ICRE's primary objectives are to develop, nurture, and support a cadre of clinical and translational scientists by building on the University of Pittsburgh's existing clinical research training programs to establish a comprehensive program with activities ranging from early research exposure for high school students to programs for faculty. We offer degrees in clinical and translational science as well as medical education. We also have numerous career development programs for trainees across the pipeline.
News and Information about Programs
---
Alyce Anderson, a student in our PhD in Clinical and Translational Science Program, successfully passed her Dissertation Defense and Final Examination on Monday, July 24th, 2017. Her dissertation is entitled, "Real-World Healthcare Data to Define and Prevent Complications in Inflammatory Bowel Disease." Her dissertation committee included David Binion, MD; Galen Switzer, PhD; Kenneth Smith, MD, MS; Laura Ferris, MD, PhD; and Kaleab Abebe, PhD.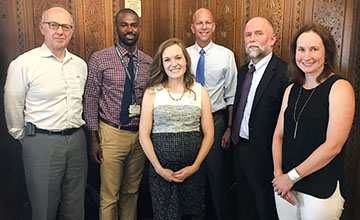 Congratulations to Alyce!
---
On May 16th, Graduates from Institute for Clinical Research Education Training and Degree Programs were recognized at our Commencement Ceremony. We are proud of all 82 graduates and wish them the best in their future endeavors!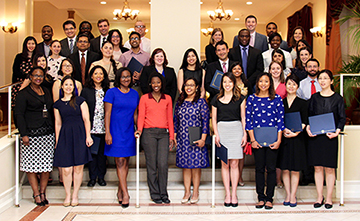 Congratulations to our 2016-2017 Institute for Clinical Research Education Graduates!
---
Faculty News
Recent Grant Opportunities
---
The Beckman Young Investigator Program
The Beckman Young Investigator (BYI) Program provides research support to the most promising young faculty members in the early stages of their academic careers in the life sciences. Projects are normally funded for a period of four years, and grants are in the range of $600,000 over the term of the project. The program encourages truly innovative and high-risk proposals that represent a departure from current research directions and that cut across traditional boundaries of scientific disciplines.
The deadline for applications is August 14, 2017. Click here for more information.
NIH Loan Repayment Programs
For more grant opportunities, please see the grant opportunities page.


UPCOMING EVENTS
No events for the next 30 days.
"I'm always using things that I've learned in class one way or another.  Whether I'm reviewing a journal article, teaching at the bedside, or reviewing goals and objectives for our fellowship, being a part of the program has taught me a great deal and has afforded me many opportunities.  It's not uncommon for me to refer back to the material from various classes to help me with a specific issue. "