Commitment to Diversity
At the Institute for Clinical Research Education, we are committed to enhancing the careers of clinical and translational researchers from underrepresented minorities in the health sciences. The groups shown to be underrepresented in biomedical research include: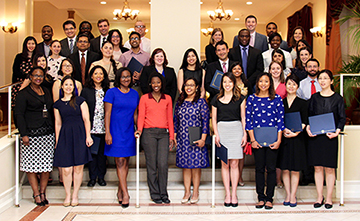 Black or African Americans, American Indians or Alaska Natives, Hispanics or Latinos, Native Hawaiians or Other Pacific Islanders;
Individuals with disabilities; and
Individuals from disadvantaged backgrounds.
In an effort to increase the number of individuals from underrepresented backgrounds in our training programs, we have created the ICRE Diversity Committee, chaired by Dr. Kapoor, the Director of ICRE. The committee is comprised of faculty members from multiple schools and departments at the University of Pittsburgh, all of whom have significant experience and leadership roles within the University. The committee's main charge is to help in the recruitment, support and mentorship of trainees from diverse backgrounds, with a focus on transitioning them through academic careers.
We are committed to increasing underrepresented trainees and scholars in all our programs including degree granting programs (Certificate, MS, PhD in Clinical and Translational Science) and in our career development programs along the entire pipeline of investigators from high school students to junior and senior faculty.
"Congratulations on a truly noteworthy and productive body of work that is a model for institutions nationally!!"
Programs specifically designed to promote diversity among our trainees
The Career Education and Enhancement for Health Care Research Diversity (CEED) Program provides fellows, postdoctoral trainees, and junior faculty from underrepresented populations with mentoring and intensive training in grant writing, preparation of publications, and development of leadership and management skills, with the goal of helping trainees successfully compete for early career development awards (e.g., K08, K12, K23, K25, and VA awards).
CEED II is a career development program for medical students entering their third year who are underrepresented in academic medicine or health sciences. CEED II offers a diverse array of skills training, funding, networking, and mentoring.
The Expanding National Capacity in PCOR through Training (ENACT) Program is a tuition-free, multidisciplinary, comprehensive, and individualized career development program that trains investigators from Minority Serving Institutions (MSIs) in patient-centered outcomes research (PCOR). ENACT is for postdoctoral trainees and any level faculty from our six partnering MSIs who have research training or experience in introductory statistics, research methods, or epidemiology.
The Leading Emerging and Diverse Scientists to Success (LEADS) Program is a year-long training program tailored to diverse trainees and junior faculty from five partnering MSIs to help launch their research careers.
The Doris Duke Foundation Academy for Clinical Research integrates five established summer high school programs at the University of Pittsburgh. It is one of nine sites in the country that provides unique opportunities for promising seniors from underrepresented minority and disadvantaged backgrounds, by immersing them directly into mentored, clinical research activities.